The Buddhist Church of Florin is located at 7235 Pritchard Road in the southeast area of Sacramento County. BCF was established at its present location in 1919. We are affiliated with the Buddhist Churches of America, the oldest and largest Buddhist organization in the West, and belong to the Shin or True Pure Land sect, the largest and most popular sect in Japan.
Our mission continues to be to share the wisdom and compassion of the Buddhist teachings and practice with the greater community. We offer weekly religious services, lectures, Dharma study classes, library, counseling, weddings, funerals and other ceremonies for special life passages, as well as Japanese cultural classes, martial arts classes, and various fun social activities. We also offer many youth activities including religious instruction (Dharma School) for children and teenagers, social activities, community service activities, outings, and a very active sports program centered around our full-size gymnasium.
Dharma School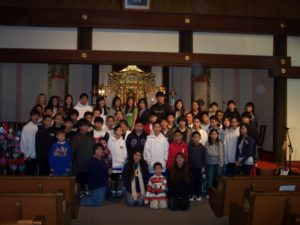 We utilize an exciting and motivating curriculum, which covers the central teachings of Jodo Shinshu Buddhism. Practice, etiquette, Buddhist history, development of good character, ethical values, family relationships, value of lifelong education, self-esteem issues, cultural arts, comparative religions, and other important topics for young people.  Please sign up your children, grandchildren, nieces, nephews and their friends.  They are the future of our wonderful temple.
100th Anniversary Church Preservation Project
Find Us
Spring Food Bazaar Order Form
Golf Tournament Entry Form
BWA PANERA FUNDRAISER
American Sutra: Buddhism and Family Legacies
Saturday, May 4, 2019
5 to 7 PM
1285 66th Street, Emeryville, CA
In American Sutra, author Duncan Ryuken Williams tells the little-known story of how, in one of our country's darkest hours, Japanese Americans fought to defend their faith and preserve religious freedom. The mass incarceration of Japanese Americans during World War II is not only a tale of injustice; it is a moving story of faith. In this path-breaking account, Williams reveals how, even as they were stripped of their homes and imprisoned in camps, Japanese American Buddhists launched one of the most inspiring defenses of religious freedom in our nation's history, insisting that they could be both Buddhist and American. How did Buddhism as a spiritual practice and cultural legacy survive?
Joining Duncan Williams in conversation are Rev. Ken Yamada, editor of Shinshu Center of America and Rev. Candice Shibata, minister at the Buddhist Church of Florin.
Join us for this book talk, conversation, & light refreshments!
Purchase your copy of American Sutra through the BCA Bookstore at: https://bcabookstore.mybigcommerce.com
Contact Us
7235 Pritchard Rd.
Sacramento, CA 95828
(916) 383-1831
Mailing Address
P.O. Box 292006
Sacramento, CA 95829