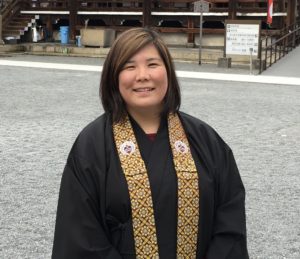 I was born in San Jose, California and moved to Stockton, California shortly after my birth. While growing up in Stockton, I was very active at the Buddhist Church of Stockton and enjoyed years of playing basketball in the temple basketball league.
I received my BA at California State University, Sacramento where I majored in psychology and minored in sociology.  After graduation, I was a case manager for children with developmental disabilities for seven years.  In 2009, I obtained my first Masters of Arts Degree in counseling psychology from the University of San Francisco. Following graduate school, I interned as a marriage and family therapist at two elementary schools from 2009-2010.
In the fall of 2010, I began my graduate studies in Buddhism at the Institute of Buddhist studies and Graduate Theological Union in Berkeley, California.  In September 2012, I received my Tokudo ordination in Kyoto and served as the minister's assistant at the Buddhist Church of Stockton.  I completed my Masters Degree in Buddhist studies in May 2015 and received my Kyoshi ordination in Japan shortly after graduation.  I am happy to have followed in the Shibata family footsteps, as I am a 4th generation BCA minister and the 14th generation minister in the Shibata family.
I began my first assignment at the Berkeley Buddhist Temple in September 2015 until December 2017 and began my assignment at the Buddhist Church of Florin on January 1, 2018.